The stunt presidential candidacy of hedge funder and biotech investor Vivek Ramaswamy will meet the reality of bright lights and rhetorical combat on Wednesday night. Ramaswamy, a man known to almost no one outside of Silicon Valley prior to 2023, is creeping up in polls. He has become, arguably, Donald Trump's chief rival for the nomination. And he is the perfect encapsulation of the contemporary GOP— a vacuous, camera-mugging culture warrior who has exploited the far right's closed-loop information system and Boomer-centric grievance complex to turn himself into a household name and presidential contender despite lacking a single qualification for the office.
The Harvard-and-Yale educated Ramaswamy is like an anti-woke Facebook meme come to life, a combination of big testosterone energy and populist cosplaying that seems to work very well on the Republican primary electorate these days. "I'm an outsider who speaks the truth," Ramaswamy said on Fox News the other night. It's an odd claim for someone who went directly through Harvard's well-traveled undergrad-to-hedge-fund pipeline and was a multimillionaire before he turned 30.
With enough financial padding to last him a lifetime, the slick Ramaswamy turned to getting famous, writing a book called Woke Inc. in 2021. After resigning his leadership positions in his pharmaceutical company Roivant that year, he founded an "anti-woke" index fund—never mind that the whole thesis of his turgid book was that corporations should stay out of politics. He is undeniably adept at courting media attention with ridiculous proposals, most notably his plan to raise the voting age to 25 unless you join the military, serve as a first responder or pass a citizenship test. It's the kind of derpy idea designed to appeal to low-information Republicans steeped in unfocused grievance politics, and one that has a 0.0 percent chance of ever happening.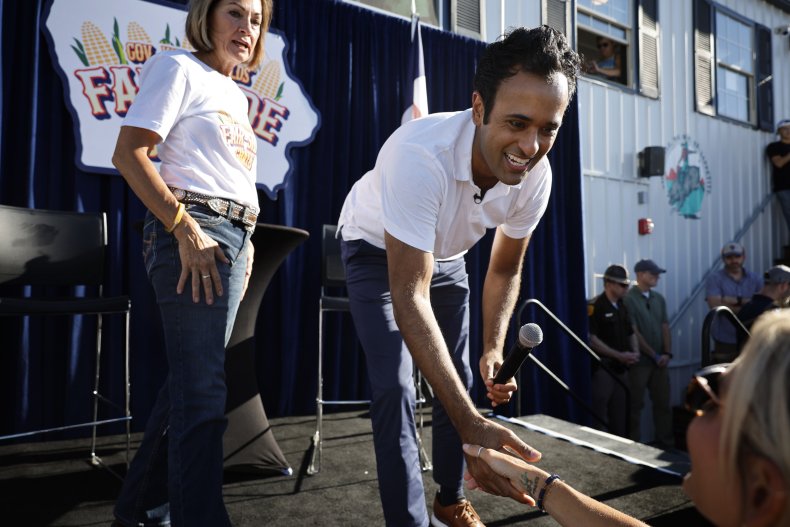 The 26th Amendment to the U.S. Constitution is short and sweet, clocking in at just 48 words across two brief sections. It grants an unambiguous right to vote to citizens who are 18 and older and it wouldn't get within two hundred votes of passing the House, let alone making it through the arduous ratification process. It's a rancid idea that combines brain-dead elitism with complete civic ignorance.
Ramaswamy is not an idiot—he knows that raising the voting age will never happen but he has nevertheless staked his candidacy on a fantasy. And he knows GOP primary voters, who are consumed with contempt for most young people and their values, will lap it up. The possibility of appealing to, rather than disenfranchising, young voters seems not to have occurred to him, even though tiny swings in the Democratic margins with 18- to 29-year-olds could put a Republican candidate in the catbird's seat. Go ahead and play with those numbers yourself and see.
He sports a large rolodex of toxic political positions that would be difficult to defend during the general election, including ceding parts of Ukraine to Russia. He recently called Richard Nixon, who resigned from office in disgrace, "the most underappreciated president in our modern history." He has dabbled in 9/11 trutherism and is prone to moments of almost unimaginable cringe, like when he recently tried to perform Eminem's "Lose Yourself" in front of a crowd of Iowa fair-goers.
At the same time, he should be easily outflanked to the right on bread-and-butter Republican issues like despising and subjugating LGBTQ people (Ramaswamy favors same-sex marriage) and imposing reproductive tyranny on America (he continues to defy Gilead by opposing a national abortion ban). The idea that the GOP primary electorate, composed of millions of Evangelical Christians, will flock to a Hindu who wants to cut off foreign aid to Israel is comical.
Yet there he is, running second or third, depending on the poll, behind former President Trump, largely based on his brash embrace of the anti-woke culture war. He likes to recite his "10 commandments," which include barnburners like, "There are only two genders," and "Human flourishing requires fossil fuels." Hostility to a reality-based, tolerant, multiracial democracy truly is the glue binding the modern GOP together.
Ramaswamy is the result of a political culture that invites anyone to run for president, and political parties that have agreed to go along for the ride rather than exercise any kind of quality control or even attempt to maintain the pretense that they are private political organizations with rules. No one forced the RNC to let this guy into their debate, and as their counterparts learned years ago after accidentally elevating gadflies like Marianne Williamson, Tulsi Gabbard and Andrew Yang into national public figures, he will now haunt the GOP for years.
Like his hero Donald Trump (Ramaswamy even likes to run around in a branded baseball cap), he has never held or pursued elected office of any kind and despite his obscene wealth, positions himself as a man of the people. You don't need to think that politics is neuroscience to believe that you should have some experience in government before taking on the most complex and important job in the country.
But for pharma bros like Ramaswamy, government is just one more system to disrupt with a combination of Wall Street and Silicon Valley's worst practices. He saw Republican voters lighting money on fire by ordering $35 six-packs of "conservative" beer and thought, why shouldn't I become the presidential candidate version of the kind of mail-order grift that gets advertised on far-right podcasts?
We'll soon find out if there's enough suckers in the Republican Party to make him the nominee. I wouldn't necessarily bet against it.
David Faris is an Associate Professor of Political Science at Roosevelt University and the author of It's Time to Fight Dirty: How Democrats Can Build a Lasting Majority in American Politics. His writing has appeared in The Week, The Washington Post, The New Republic, Washington Monthly and more. You can find him on Twitter @davidmfaris.
The views expressed in this article are the writer's own.