A series of high-profile Jewish organizations have slammed Elon Musk's Twitter for not responding proactively to antisemitic content on the platform.
A series of controversies have plagued Twitter since the billionaire purchased the platform, from blue check arguments to his recent admission that his time running the social media site has proven "painful." But perhaps most prominent since the takeover are claims that hate speech has increased on Twitter.
While Musk and experts have some different ideas on what hate speech is, there is increasing evidence that users are being faced with more hateful content while browsing.
Now, a series of Jewish organizations have told Newsweek how concerned they are about the rising number of cases of antisemitism on Twitter feeds.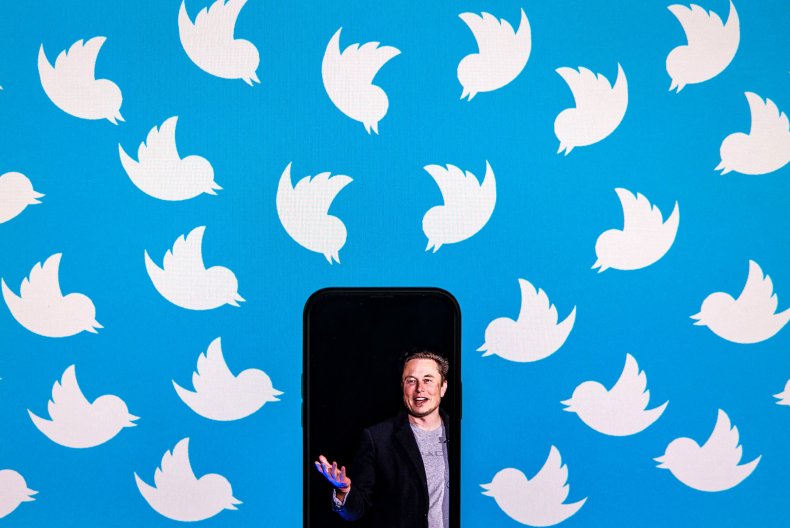 "We are deeply concerned about this trend, which was exacerbated by Elon Musk's decision to reinstate the accounts of dangerous right-wing extremists and antisemites who had violated Twitter's terms of service," the Jewish Democratic Council of America (JDCA) told Newsweek.
Newsweek reached out to Twitter for comment and received a template emoji response.
Research from CASM Technology and the Institute for Strategic Dialogue (ISD) found what they called a "major and sustained spike" in antisemitic posts on Twitter since the company's takeover by Musk in October 2022. Analysts detected 325,739 English-language antisemitic tweets in the nine months from June 2022 to February 2023, with the weekly average number of antisemitic tweets increasing by 106 percent (from 6,204 to 12,762), when comparing the three months before and after Musk's acquisition.
"Multiple reports have shown that antisemitism, homophobia, and other hate has skyrocketed since his takeover," the StopAntisemitism organization told Newsweek. "Twitter is not doing nearly enough to combat hate. We should not have to intervene to have content deleted that praises genocidal maniacs like Hitler or Hamas—if Twitter isn't catching those posts, it means they have a lot of work to do."
Arthur Maserjian, director of international affairs and diplomacy for the Combat Antisemitism Movement, told Newsweek that the Musk takeover signaled an opportunity for more hate to spread on Twitter: "The acquisition was seen by fringe extremist groups as an opportunity to rejoin Twitter en masse, under the belief that their hateful ideology would receive a warmer reception."
A report published in January 2023 by the Combat Antisemitism Movement and the Network Contagion Research Institute (NCRI) looked at how antisemitic content has spread since the Musk takeover.
"The use of traditional terms, which often denote antisemitic conspiracy, including "Soros" and "globalists," also rose sharply since Musk's acquisition and acted as an upstream predictor of real-world antisemitic incidents," read the report, which said that while these behaviors are not borne by Twitter, the way they are being allowed to spread by the team behind to social network is increasingly concerning.
More recently, a viral Tweet highlighted what many agreed was a shocking piece of content shared by an account with over 70,000 followers—and a blue tick thanks to Musk's Twitter Blue subscription model.
On April 21, Twitter user Yashar Ali shared a screenshot of a post by an account with the name "Radical Consciousness." In the tweet, they shared a picture of Hitler alongside claims that he is "history's most lied about man," before writing that: "He put his own people first. He loved his people more than any other statesmen dared to love his people."
Ali's tweet quickly gained traction with over 1.7 million views, and prompted many users to reach out to Twitter about the antisemitic content they were seeing increasingly while using the social network site.
What is Twitter's policy on hateful content?
Just a week earlier on April 17, Twitter announced a new policy change that would reduce the organic reach of tweets that violate or may violate existing hate speech standards on the platform.
They shared an example of what a tweet flagged like this might look like, with a public label that notes that the content is potentially violating policies.
In a statement, Twitter said that they believe in "Freedom of Speech, not Freedom of Reach," and would make hateful content less visible on the platform.
Twitter's current Hateful Conduct Policy makes two specific references to the holocaust. First in prohibiting content that references forms of violence or violent events with media and text, and secondly banning images that have been altered to include hateful symbols or references to mass murder that targeted a protected category.
The European Jewish Congress explained that they have been urging social media companies, including Twitter, to take better and more decisive action to combat the spread of antisemitic content. They are also part of a series of groups urging the platform to adopt the International Holocaust Remembrance Alliance (IHRA) definition of antisemitism.
The IHRA definition includes various types of antisemitism, such as justifying the killing of Jews in the name of radical ideology, Holocaust denial, and denying the Jewish right to self-determination in the State of Israel. The IHRA definition has been officially adopted by the U.S. government and 37 other national governments, as well as numerous universities, law enforcement agencies and international bodies worldwide, including the UN and the EU.
Shortly after Musk's takeover in November 2022, 180 civil rights groups wrote to Twitter to implore them to update the company's anti-hate policies and adopt IHRA's working definition of antisemitism.
"By adopting the IHRA definition, Twitter would send a clear message that it takes the issue of antisemitism seriously and is committed to creating a safe and inclusive online environment for all users," the European Jewish Congress told Newsweek.
Despite their anger over an increase of antisemitic content on Twitter, Jewish groups overwhelmingly told Newsweek that it will not drive them away from the platform.
"We believe that it is important for us to remain engaged in the online conversation, to raise awareness about the issue of antisemitism, and to hold those who promote hateful content accountable for their actions," said the European Jewish Congress. "Leaving Twitter would mean ceding a critical space for our voices to be heard, and it would be a missed opportunity to make a positive impact in the fight against antisemitism."
Similarly, the Combat Antisemitism Movement said: "As contemporary forms of antisemitism continue to proliferate, as well as develop new ideological dimensions. We, along with our many partners across faiths and cultures must continue speaking out and educate about threats to Jewish life to counter these hateful voices on these platforms."
StopAntisemitism also expressed the importance of being part of the global conversation and a fight against hateful content, but did not rule out having to leave the platform if nothing changed. "We're staying on Twitter because that's where our stakeholders are and because it's the social platform where we can make the biggest impact. We have no current plans to leave the platform, but are not eliminating that option," it said.