A photo of Taylor Swift and Greta Gerwig has sparked rumors of a collaboration between the pair, with the singer and director spotted out for dinner.
The duo were dining at Il Buco Alimentari & Vineria in New York, alongside fellow A-listers Laura Dern and Zoë Kravitz. Fans were thrilled by the appearance, with social media users begging for the Barbie filmmaker and Grammy-winning songstress to work on a project together.
"Imagine Taylor being in a Greta Gerwig film," said Dynasty on X, the social network formerly known as Twitter.
"I'm gonna pass out," joked @lovrmore.
"She's getting ready for Barbie 2," wrote @chaiamet.
Another user, Aryan, hoped that Gerwig would direct a Taylor Swift music video, while Alex called a potential collaboration "insane."
"This is a win for all the indie girls out there," commented Ron.
Newsweek has reached out to Taylor Swift and Greta Gerwig for comment via email.
Swift is currently mid-way through her record-breaking Eras Tour, which began in March and will run until November 23, 2024 after a second U.S. leg was added due to unprecedented demand.
Covering five continents, the tour has increased the 33-year-old's net worth by $200 million, edging her towards billionaire status, and may become the highest grossing stadium tour of all time.
The opening gig in Glendale, Arizona, was the most-attended concert by a female performer in the U.S. ever, with 69,000 people in attendance—6,000 more than previous record holder Madonna. Over 2 million tickets for the tour were sold on the first day alone, according to Ticketmaster, a feat no other performer has yet to reach.
It's also been an impressive summer for Gerwig, with Barbie making box office history. After its release in theaters on July 21, the movie—which stars Margot Robbie as the iconic doll—hit over $1 billion in just 17 days.
Only 53 movies have ever crossed the $1 billion mark at the box office, with Barbie joining the likes of Avatar ($2.924 billion), Avengers Endgame ($2.799 billion) and Titanic ($2.265 billion) on the list. As of September 19, Barbie has now surpassed Marvel's The Avengers as the 11th highest grossing movie of all time in North America, with $626 million at the domestic box office. If it moves past $653 million, it'll unseat Jurassic World to round out the all-time domestic top 10.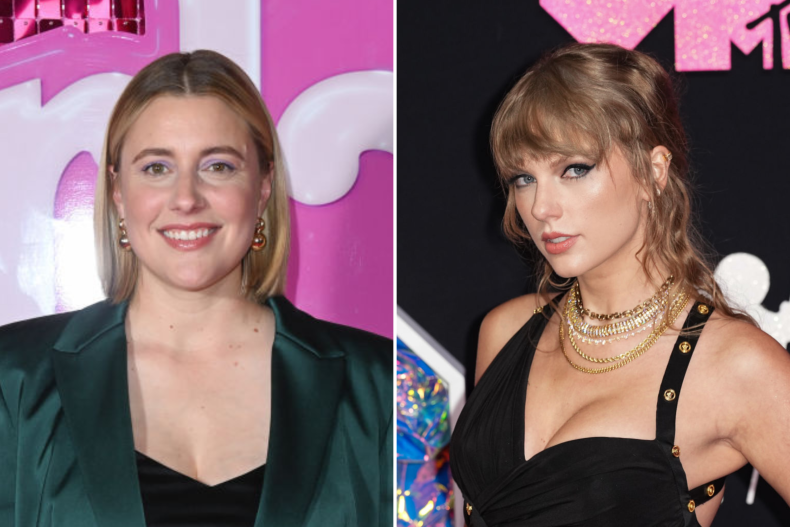 Swift and Gerwig would be a force to be reckoned with, although both reportedly have a full workload as it is. The pop star is part-way through re-recording her first six albums, which she created while under contract with Big Machine Records.
The label owned the rights to the masters of Taylor Swift (2006), Fearless (2008), Speak Now (2010), Red (2012), 1989 (2014) and Reputation (2017). When music mogul Scooter Braun purchased the label in 2019, he also purchased the rights to her work, leading Swift to record "Taylor's Versions" of the tracks.
However, Swift is reportedly working on a feature directorial debut with Searchlight Pictures, with an original script crafted by the singer herself. She's previously won two Best Direction Accolades at the MTV Video Video Music Awards (VMAs) for her work on All Too Well: The Short Film and The Man—the only solo artist to ever do so.
Gerwig is currently writing and directing two films for Netflix based on the Chronicles of Narnia book series by C.S. Lewis. The streaming service is hoping the project will launch a new TV and movie universe, although it's still in the development stages.