Robert F. Kennedy Jr.'s campaign manager has written to President Joe Biden demanding Secret Service protection for the presidential hopeful, after an armed man was arrested on Friday night at an event where the Democratic candidate was speaking.
Police detained the man in Los Angeles by the Wilshire Ebell Theatre where Kennedy was giving an address to mark Hispanic Heritage Month. The suspect was "carrying a U.S. Marshal badge" and falsely claimed to be part of Kennedy's security team, according to a statement from the candidate. This incident took place less than two miles from where Senator Robert F. Kennedy, the unorthodox Democrat's father, was murdered in June 1968.
Kennedy has struggled to build a credible challenge to Biden who leads him by more than 50 points as Democratic voters' preferred presidential candidate, according to fivethirtyeight. However his coronavirus vaccine skepticism has gained Kennedy a substantial fan base on the right, with Fox News host Sean Hannity claiming he is the "best option" to defeat Biden.
In an open letter to Biden published on Monday, Dennis Kucinich, a former Democratic congressman and Kennedy's campaign manager, issued a call for Secret Service protection.
He wrote: "This past Friday in Los Angeles, at a Hispanic Heritage event, a gunman posing as a U.S. Marshall sought to gain entrance to the venue where Robert F. Kennedy, Jr. was about to speak. The man was carrying a fully loaded weapon and was accompanied by a second individual who carried additional weapons and ammunition. He was intercepted by a private security detail before he could harm anyone, and arrested by the LAPD [Los Angeles Police Department]."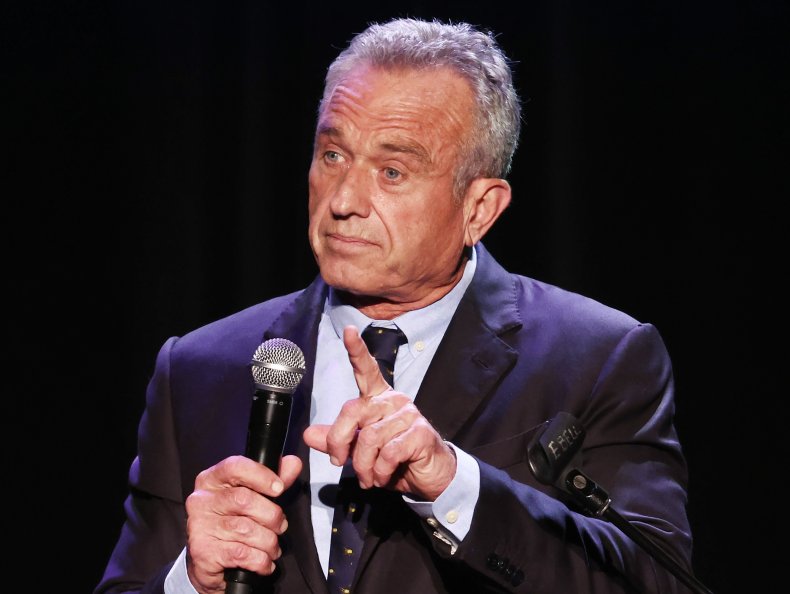 In a statement to ABC News last weekend, the LAPD said it responded to a report of a man with "a loaded gun in a shoulder holster and a badge stating he was a U.S. Marshal." Officers arrested a man who was being held on $35,000 bail on a felony charge of carrying a concealed weapon, ABC reported.
Kucinich wrote that: "The threat level to our candidate, Robert F. Kennedy, Jr., is increasing every day. He is not the only one in danger—every person who attends a campaign event is at risk. A specter of violence haunts our political process. Indeed, political assassinations pose a grave threat to democracy."
Addressing Biden directly, Kucinich continued: "It is astonishing that under such circumstances, you would deny Secret Service coverage to Robert F. Kennedy Jr., who has polled more than 20% in the first five primary states, and whose net favorability rating exceeds both yours and Donald Trump's.
"Although it is a well-known historical fact, apparently in your case it bears repeating: Mr. Kennedy's uncle, President John F. Kennedy, was assassinated. Mr. Kennedy's father, Senator Robert F. Kennedy, was assassinated while a presidential candidate."
According to the Secret Service website, the federal agency is tasked with protecting "major Presidential and Vice Presidential candidates," based on authorization from the Secretary of Homeland Security, currently Biden appointee Alejandro Mayorkas.
To judge which candidates qualify the secretary is expected to consult with the Congressional Advisory Committee, which includes the Democratic and Republican leaders in both the Senate and House of Representatives.
Secret Service protection "should only be granted within one year prior to the general election" except in "extraordinary, case by case circumstances."
Newsweek has contacted the Department of Homeland Security for comment by email.
In July Kennedy expressed frustration that he hadn't been given protection by the Secret Service. Posting on X, formerly Twitter, he said: "Since the assassination of my father in 1968, candidates for president are provided Secret Service protection. But not me."
In May 2007 Barack Obama, who was then running for the Democratic presidential nomination, had Secret Service protection approved well over a year before the 2008 presidential election, after receiving a large number of often racially motivated threats. Only former presidents and their partners are automatically entitled to lifelong protection from the Secret Service.