Chechnya's leader, Ramzan Kadyrov, had maintained close ties with Vladimir Putin, likened to a "father-son relationship"
Kadyrov has carved out enemies in Russia's security and intelligence services
Chechen fighters are known to be involved in the Ukraine war, but fighting for both Moscow and Kyiv—and now Kadyrov faces an uncertain future
Ramzan Kadyrov is not shy to call himself Vladimir Putin's "foot-soldier." After a nearly two-decades-long relationship between the leaders, the Chechen strongman was quick to throw his weight behind the Kremlin's attempted conquest of Ukraine as Russian soldiers poured over the border.
Shortly after the invasion began, Kadyrov promised Chechen fighters to bolster Russia's forces, expressing his wish they "prove themselves worthy."
Moscow's hold over the Chechen leader is not without caveats. Kadyrov has been an outspoken critic of Russian military leadership in the Ukraine war. However, the regional elites in areas like Chechnya have nonetheless "become part of the system and see their future together with the regime," Russian expert Denis Sokolov previously told Foreign Policy.
This wasn't always the case. In 1991, as the Soviet Union fell to pieces, Chechnya asserted its independence from Moscow to briefly establish some distance from the turbulent Kremlin leadership in the early 1990s. Plagued by violence, Chechnya glimpsed de facto independence in the mid-1990s before the start of the Second Chechen War just before the millennium. Through years of bloodshed in the early 21st century, the newly-installed Putin brought Chechnya firmly back into Moscow's grasp.
But as the war in Ukraine drags on, the future of the once-separatist republic—and once-dissident leader—could once again be up for debate, with potentially tumultuous consequences for Russia, the region, and the rest of the world.
Personal Relationship
"The Kadyrov-Putin relationship is one of the most pivotal relationships of all in the Russian Federation," Mikhail Alexseev, a political science professor at San Diego State University, told Newsweek.
Putin and Kadyrov have been acquainted for years, and Putin met with Kadyrov in the wake of the death of his father, previous Chechen leader Akhmad Kadyrov, back in 2004. Both father and son had been separatist voices before switching sides and pledging allegiance to Moscow.
Putin and Kadyrov "have a father-son relationship," Emil Aslan, associate professor of political science at Prague's Charles University, told Newsweek.
Much like Belarusian strongman Alexander Lukashenko, Kadyrov's future fate is "directly linked to Putin," according to Taras Kuzio, a professor of political science at the National University of Kyiv-Mohyla Academy. Should Putin's leadership end, for whatever reason, "there's simply no way I can see how Kadyrov and Lukashenko will remain in their posts," he told Newsweek.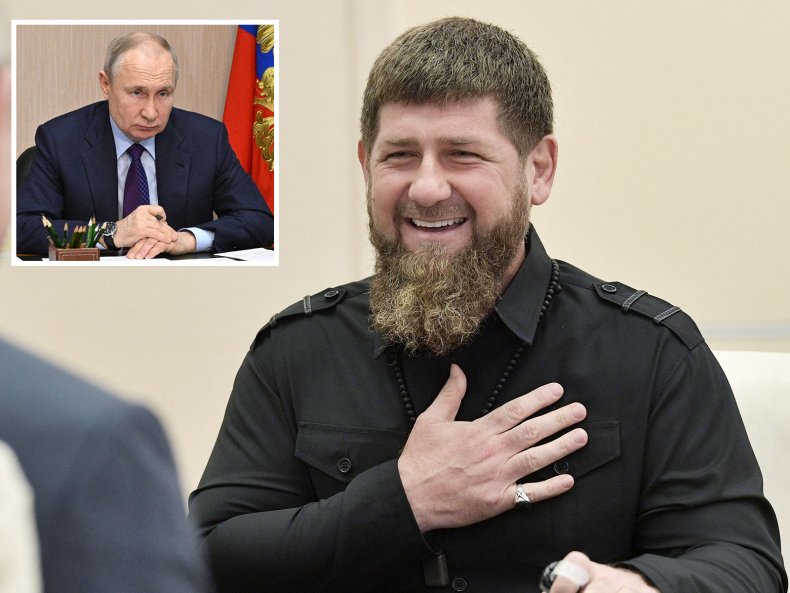 Kadyrov may even have made preparations for this already, including a form of "exit strategy," Kuzio added.
But it is the perceived strength of Putin's personal leadership that has kept Kadyrov where he is, experts stress. Hints of weakness on Putin's part would make Kadyrov's position "increasingly difficult," Kuzio said, adding that any indication that the Russian leader is on his way out would inspire acute paranoia for Kadyrov.
Yet this relationship isn't closeness, Alexseev clarified. Rather, it's "an understanding of mutual dependency, [that] both the Kremlin and Kadyrov have a lot to fear about one another."
Currently, Putin is standing in the way of the enemies Kadyrov has cultivated in Russian security services, experts say. "He's hated by the FSB [Russian federal security service], by the Russian intelligence services," Kuzio said.
Kadyrov's relationship with Putin has allowed him to sidestep or override federal agencies, Alexseev added, essentially handing the Chechen strongman a "carte blanche" that makes him far more powerful than any other Russian regional leader.
Without Putin, "I expect Kadyrov's days to be numbered," according to Aslan. In fact, he added, Kadyrov's main threat is likely to come from Russia's own security services.
A "brazen-faced" leader with a "very special relationship" with Putin, Kadyrov has alienated Russian law enforcement and created "very mighty, very powerful enemies within the Russian security services," Aslan evaluated.
Money, Money, Money
Putin has funneled enormous funding into Kadyrov's Chechnya, Alexseev emphasized. Grozny, Chechnya's capital, was reduced to "ruins" by the turn of the century, but now "has skyscrapers," he added.
Last year, Kadyrov reportedly admitted that Chechnya would quickly struggle without a continued cash flow from Moscow. "I swear to the almighty Allah, we won't be able to last three months—not even a month," Kadyrov said, according to the Russian independent outlet, The Moscow Times.
Chechnya is propped up by considerable financial aid from Moscow. One estimate cited in 2011 said that around 90 percent of Chechnya's funding came from the Russian capital. Should Kadyrov sense an end to the hefty subsidies, or that the Russian economy can no longer afford to maintain them, there "could be a recalculation of interest" from Kadyrov, Alexseev suggested.
However, despite the sanctions slapped on Russia by Western countries over the Ukraine invasion, plus the financial drain of waging war, this "recalculation" may not happen any time soon. "I don't yet see the Russian economy faltering to an extent that would jeopardize Kadyrov's personal money," Alexseev said.
Kuzio offers a more pessimistic view of the "dire straits" Kadyrov may soon find himself facing as a consequence of a faltering Russian economy. A "worried" leader who "buys loyalty," his money may well "soon run out," Kuzio argued. "I don't think Kadyrov feels very secure," he added.
Domestic dissent to channeling Russian rubles into the North Caucasus has long been detected. Back in 2011, a poll cited by The New York Times showed that 51 percent of surveyed Russians would not be opposed to Russian borders excluding Chechnya.
A Lot Hinges on Ukraine
Along with the crucial financial factor, how Russia fares in Ukraine is likely have one of the biggest impacts on Chechnya's, and therefore Russia's, future, Alexseev said.
"This year is going to be crucial in this war in Ukraine," Kuzio commented. If Russian forces fail to secure the eastern Donbas region of Ukraine, or if Kyiv's forces can launch successful operations in the spring with new, Western-supplied equipment, Putin's position becomes more and more precarious, he said.
According to Alexseev, a significant military setback for Russian forces could be one of the tipping points, such as if Ukraine retook the eastern Donetsk city or Mariupol, which suffered heavy bombardment in the earlier stages of the war. Financial considerations may motivate Kadyrov, he said, but so do perceptions of Russia's military strength.
Ukraine's war has pulled fighters from across the globe to the frontlines, and there are Chechens fighting alongside Ukrainian soldiers against opposing Chechen forces under Kadyrov's command. Although it is impossible to pinpoint how many Chechen fighters have headed for Ukraine, many are thought to have come from Chechen diaspora communities, rather than directly from Chechnya.
Those sympathizing with Ukraine's goals are not an organized force, Alexseev said. Many have headed to the battlefields with "long-standing grievances" and grudges against Kadyrov's brutal regime, and therefore "see the fight for Ukraine as contributing to their long-term goal of Chechen independence," he argued.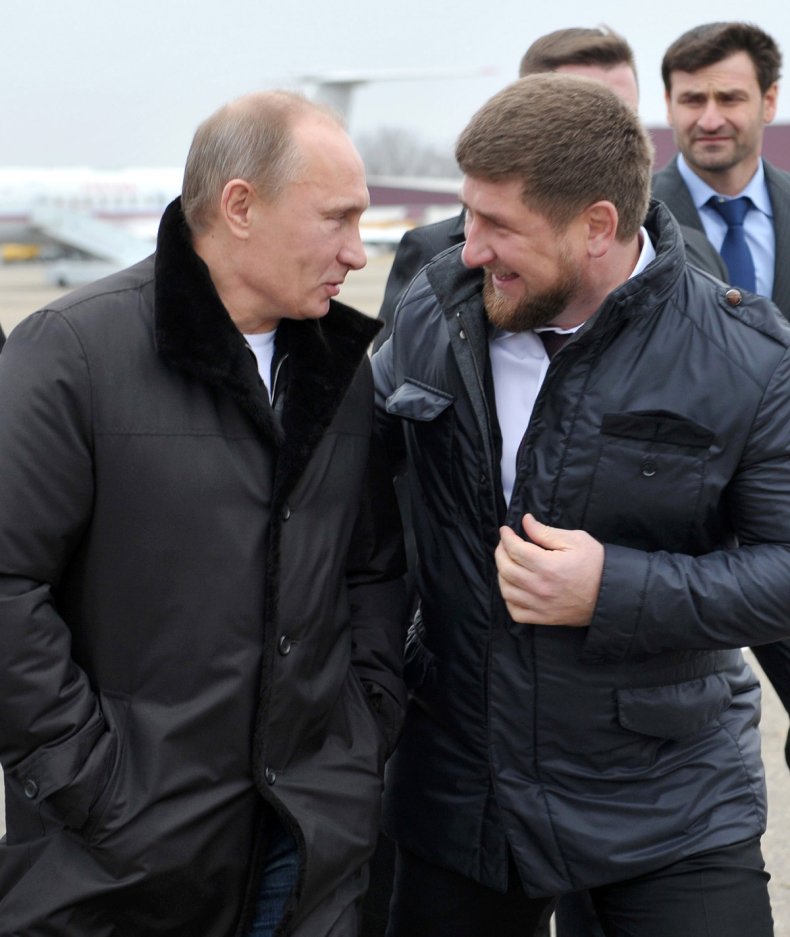 But these "dispersed" fighters are less "concentrated" than Kadyrov's fighters, Alexseev said. Putin may have promoted Kadyrov to the rank of lieutenant-general early on in the Ukraine war, tied to his participation in the Russian war effort, but it is not always clear what function the Kadyrovtsy—Kadyrov's personal militia—is fulfilling in Ukraine.
Some experts suggest, as Alexseev has, that Kadyrov's fighters – known for their antics on TikTok – have been used as a cleansing force or military police, somewhat removed from the front lines.
Yet, in a twist on the war's potential to destabilize the Kremlin dynamics and Moscow's relationship with the likes of Kadyrov, it could prove to be one of the few things preserving the status quo. War has a "unifying potential," Alexseev argued, that could stay the course for Russia, should Putin's reign end, but it would depend on how "the inner circle rearranges."
Parallels With the Soviet Union
Conversations around a disintegration of the Russian Federation, in the style of its Soviet predecessor, have started to creep up. There is "already a steady decline in Putin's image as a strong man," Kuzio argued. This deterioration in his personal power could have ripple effects beyond a Russian loss in Ukraine, he added.
"He's already perceived as weak. You can already see that countries in the former Soviet Union are all drifting away from Russia," according to Kuzio.
Should Russia be increasingly seen as a junior regional player, it may soon come up against renewed separatist forces in former conflict zones, experts have suggested. Nationalist fighters in areas such as Chechnya, Georgia and Moldova that could sense an "opportunity" to try and oust pro-Russian forces, Kuzio argued. "Russia today is simply unable to send troops to support all of its proxies in these frozen conflicts," Kuzio added, which "would be the same in Chechnya, because it can barely fight a war in Ukraine."
"I think the Chechen question will re-emerge with a weakened or declining Putin, but that will also be the same with other regions of Russia," Kuzio said.
More and more, speculation surrounds whether the Russian Federation could fall apart, experts say. The Russian Federation "is itself a mini Soviet Union, a mini empire," Kuzio said.
"We are already approaching the same kind of situation as we had in 1989 [and] 1990, before the collapse of the Soviet Union," Kuzio said. "We're in that stage now with this war."
Without "completely ruling it out," Alexseev is sceptical of a third Chechen war any time soon, not least because the conditions within today's Chechnya don't entirely correspond with the state of the region as the Soviet Union collapsed.
"There were two big brutal wars fought in Chechnya, [and] there was a long term insurgency there," Alexseev observed. But they followed the breaking up of the USSR, Russia's military power and some expectation that the rest of the world could "endorse the independence of post-Soviet states," he said.
But, crucially, there was an element of liberalization; the emergence of the All National Congress of the Chechen People provided direction for nationalist separatist movements, he said. In the Chechnya of 2023, Kadyrov's rule has "basically eliminated any source of popular mobilization, any organizational capacity for these movements to come out."
So, "at present, we don't see these conditions lining up," Alexseev argued. "We don't see fissures within the Russian elites, for example, the way there were fissures within the Soviet elites and Russian elites in the '90s."
But Chechnya Is Not Ukraine
Chechnya, a region within internationally recognized Russian borders, is not Ukraine. This is important to remember, because Putin does not see them in the same way, Kuzio argued.
When Putin came to power, he saw the retention of Chechnya as a way to combat the "disintegrating tendencies" in the Russian Federation, according to Kuzio. The "obsession with Ukraine is more to do with his legacy," whereas Chechnya "is a different ballgame," he added.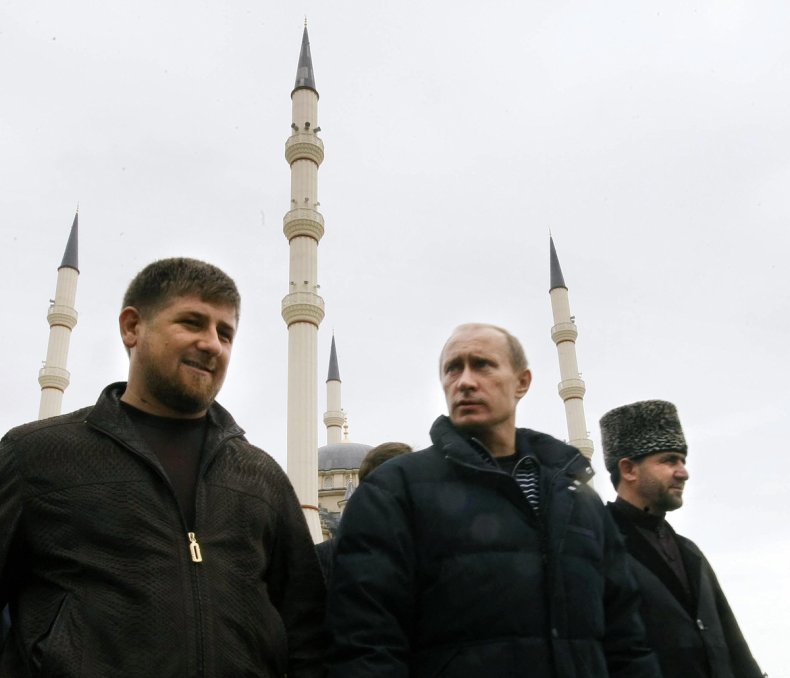 They may not be the same, but Chechnya and Ukraine have long had contact. During the 1990s, in the first and second Chechen wars, Ukrainian fighters backed Chechen nationalists against Russian forces because of a "strong, deep sympathy" with a fellow quest against perceived Russian imperialism, Kuzio said.
"They see it as the Chechens have been trying to get the national freedom for a long time. They've been politically and culturally repressed, like the Crimean Tatars," Kuzio said.
However, some reports show negative perceptions of Chechen fighters in Ukraine, sometimes attributed to religious and cultural differences, as well as the reputation of Kadyrov's regime.
What Could Kadyrov Do?
Should Putin's support disappear for Kadyrov, he is likely to opt to present himself as a "Chechen patriot who saved Chechnya from a worse fate" under Russian rule, Kuzio said.
But, with the "hatred he has engineered among many Chechens," this is unlikely to go down well with those who see him as a Russian marionette, he said. It will likely be an ugly period in Chechnya's story, because Kadyrov will violently resist surrendering power, according to Kuzio.
Many factors remain uncertain about how Ukraine's war will impact the small Russian republic. Some have predictions: Oleksiy Danilov, the secretary of the National Security and Defense Council of Ukraine, told Ukrainska Pravda in December that when without Putin, Chechnya "will become a free country."
"Whether with Kadyrov or without Kadyrov, believe me, it will definitely happen and very, very quickly," he told the Ukrainian outlet.
Should war break out once again in Chechnya, experts theorize it could be fueled by either anti-Russian sentiment, or a feeling of "revenge" engendered by the bitter conflict of the last 30 years. Aslan argued that many Chechen families will "remember what was done to them," and are waiting for a window of opportunity to exact revenge.
Ukrainian fighters may even end up in Chechen territory as they have in the past, as Chechen soldiers are now operating in Ukraine, Kuzio suggested.
But this is all yet to pass. On February 13, Kadyrov reaffirmed his support for Putin's forces in Ukraine, telling Russian state television that "by the end of the year, we will 100% complete the task set for us today."