Several Chechen soldiers fighting for Moscow in the fiercely contested city of Bakhmut have been killed in a HIMARS strike, according to Ukrainian outlet Kanal 24.
In a video published by the outlet, and circulated on Telegram by far-right Ukrainian nationalist Sergei Sternenko, multiple dead bodies can be seen around a military vehicle. Later in the clip, the camera operator, who is speaking Chechen and Russian, shows what look to be bloodstains inside a wooden structure close to the bodies.
Newsweek has not embedded or linked to the footage because of its extremely graphic nature. The time and location of filming could not be independently verified, nor could the claims that the soldiers were Chechen. It is not possible to determine if the footage shows the aftermath of a HIMARS strike.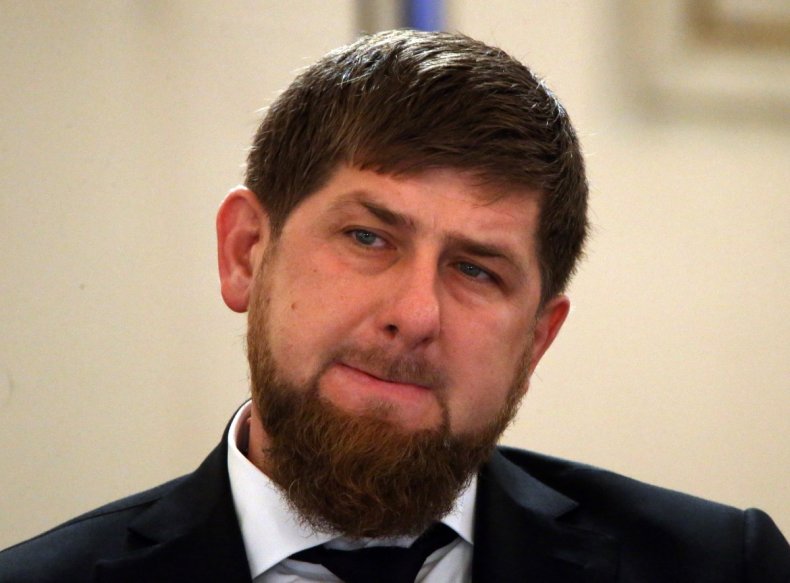 A commander of Chechen leader Ramzan Kadyrov's forces in Ukraine filmed the video, according to Kanal 24.
"So what do you say bro? Do you feel sorry for these boys?" the commander can be seen asking in the footage.
"Very sorry," another soldier replies and turns away.
"And I feel sorry too, damn it," the commander says.
Atesh, a military group led by ethnic Ukrainians and Crimean Tatars, claimed on Monday that Chechen and Russian forces had been "crushed" in Bakhmut. Dozens of fighters were "dying en masse," the group said on social media.
Separately, Maksym Zhorin, a former commander of the far-right Azov Battalion, said Chechen fighters had been near Bakhmut, but "not for long."
Newsweek could not independently verify the presence of Chechen Akhmat special forces in Bakhmut, which has been disputed.
Newsweek has emailed the Russian Defense Ministry for comment.
HIMARS, or High Mobility Artillery Rocket Systems, arrived in Ukraine in the summer of 2022. To date, the U.S. has provided 38 HIMARS to Ukraine, plus ammunition.
Chechen soldiers have been present in Ukraine since the early days of the conflict. Experts suggested that Chechen fighters were used as a cleansing force or military police, somewhat removed from the front lines, but Akhmat forces have reportedly recently deployed to Bakhmut to replace withdrawing Wagner fighters.
Kadyrov, who heads up the southern Russian republic of Chechnya, is seen as both loyal to and dependent on Russian President Vladimir Putin. He has been a vocal supporter of Moscow's war in Ukraine.
The Institute for the Study of War (ISW), a U.S. think tank, said on Monday that Akhmat forces are "unlikely to make even a tactically significant impact in their alleged deployment to the Bakhmut area."
Kadyrov may be pushing the involvement of Akhmat forces to "curry favor" in the Kremlin and with the Russian Defense Ministry, the think tank said in its latest analysis.
On Monday, Kadyrov took to Telegram to praise Chechen efforts in Bakhmut, denying reports that Akhmat forces were not in the destroyed city. He has also claimed that Chechen forces were playing a key role in fighting for the Donetsk city of Marinka.
"Akhmat forces have allegedly been fighting in Marinka for over a month and have yet to produce the significant breakthroughs that they promised," the ISW said.
On Monday, Ukrainian Deputy Defense Minister Hanna Maliar said Kyiv's forces had established fire control over Bakhmut "for several days."
"The enemy is trapped, the city is under fire control of the Defense Forces," Colonel General Oleskandr Syrskyi, the commander of Ukraine's ground forces, also said on social media.
Reports from Ukrainian and Russian sources suggested that counteroffensive actions "may be credibly threatening the Russian hold on Bakhmut, although it is far too early to forecast the liberation of the city," the ISW evaluated.
On Tuesday, Russia's Defense Ministry said Ukrainian forces "continued unsuccessful attempts" to attack in Donetsk, where Bakhmut is located.
Bakhmut, while not strategically significant, is an important symbolic settlement for both Russia and Ukraine. Bitter fighting for the city has come at a heavy cost for both sides, with the now-leveled settlement labeled a "meat-grinder."