Mortgage rates have soared to historic highs in America, but one company's CEO told Newsweek what they're doing about it.
The popular 30-year term is now over 7 percent, a more than 20-year high. New homebuyers are discouraged from entering the market.
Applications for new mortgages have plummeted to their lowest level since 1996, according to the Mortgage Bankers Association (MBA). Homeowners who may want to sell and buy new properties are hitting pause and in turn stifling the supply of houses for sale, scared away by high rates.
Prospective buyers have been crowded out of the market.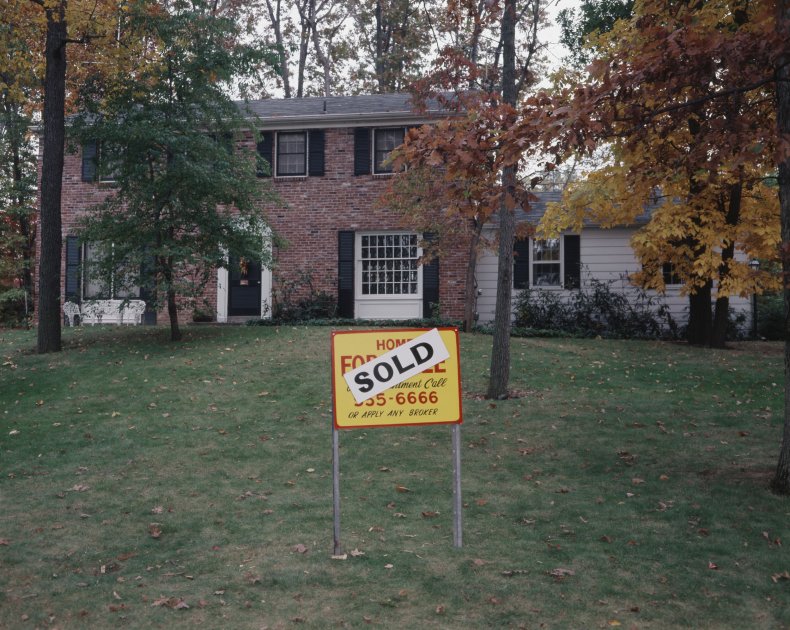 One startup is hoping to change that. Roam, a new real-estate platform that launched on Wednesday, says it can help potential home buyers find mortgages for as low as 2 percent. The company is focusing on what's called an "assumable mortgage" business where a homebuyer essentially takes over an existing mortgage from a seller.
"Roam is trying to help buyers wind back the clock on rates and purchase a home with a low rate mortgage included," Raunaq Singh, founder and CEO of Roam, told Newsweek.
Singh, who worked as a Loan Officer at real estate business Opendoor, came to the idea after he struggled to find an affordable mortgage himself.
"The rates just kept going higher and higher, and the monthly payments kept going higher and higher, which meant that the number of homes I could afford kept getting smaller, and smaller and smaller," he said in an interview.
Singh stumbled on the idea of assumable mortgages and was shocked to discover that there existed government-backed loans where the buyer could take over an existing mortgage from a seller at much lower rates than currently available in the market.
From there the concept of Roam emerged.
Singh found that few people knew about these mortgages and how to access them. The other thing he discovered was the process to acquire the homes was antiquated with the process still being done on pen and paper in some cases.
Even when a potential buyer has managed to discover these mortgages, they still have to deal with the process of eventually securing the property, which can be cumbersome and complicated. They have to deal with the seller, the seller's agent, lenders and other parties before the transaction can be concluded.
Roam decided to digitize the process so that buyers could quickly get updates about available homes and make the exercise more efficient.
"We realized, if we quarterback this transaction on behalf of the buyer, everybody else would become more amenable. And we would take the stress out of the transaction," Singh said.
The company is targeting 4.4 million homes whose mortgages are government-backed, such as those guaranteed by the Federal Housing Administration and the Department of Veterans Affairs.
The attraction of the homes for prospective buyers is that they come with low interest rates. Singh told Newsweek that his company is focused on homes that, if the interest rate is less than or equal to 4 percent, they have to have a loan-to-value of the home ratio of greater than or equal to 50 percent. And if the interest rate on the home is between four and 5.5 percent, they have to have a loan-to-value ratio of 75 percent. The focus for Roam is to make sure that the monthly payment is low for buyers, ideally less than half of what current rates would offer.
Roam, which launched today with an initial seed funding of $1.25 million, is available in Georgia, Arizona, Colorado, Texas and Florida. It has 10 employees.
The funding was led by Founders Fund's Keith Rabois. Eric Wu, founder of Opendoor, is also an investor. They will both become board members. Other investors include Ryan Johnson, Culdesac CEO, and #ANGELS Founding Partner Jana Messerschmidt. Tim Mayopoulos, former CEO of mortgage company Fannie Mae, is joining the company as a senior advisor. Earlier this year, The Federal Deposit Insurance Corporation appointed him to briefly helm Silicon Valley Bank after its collapse.
The company is registered as a real estate brokerage in the states where it operates and will charge a 1 percent fee on the purchase price of the homes it helps sell.
One challenge the company will face is what happens when buyers take over a mortgage that still has outstanding loans to pay off and may need to borrow at current, high, interest rates to cover the balance.
Singh told Newsweek that the company will assist the buyer in securing financing for that loan. He added that whatever blended arrangement they will recommend, the goal is to help their customers save money.
"We would never recommend that a customer takes on a second lien if the monthly payments will be higher," he said.
Roam is available as an online platform with a team that's also available offline, Singh said. The company doesn't yet have a mobile app.
"It's something that people have asked us for, it's something that's on our roadmap," he said.