The U.S. military is being mocked online after a military base in South Carolina appealed to members of the public to help locate a missing F-35 fighter jet.
An F-35B Lightning II stealth fighter jet was "involved in a mishap" on Sunday, military officials based in Charleston, South Carolina, said in a post to social media.
The aircraft pilot "ejected safely and was transferred to a local medical center in stable condition," officials from Joint Base Charleston said on Sunday, adding it was working alongside the Marine Corps air base in Beaufort, S.C., to find the aircraft. "Emergency response teams are still trying to locate the F-35," officials said.
The jet was part of a training squadron with the 2nd Marine Aircraft Wing, and search efforts are focusing around Lake Moultrie and Lake Marion, between Charleston and Columbia, based on the last known position of the F-35, the military base said.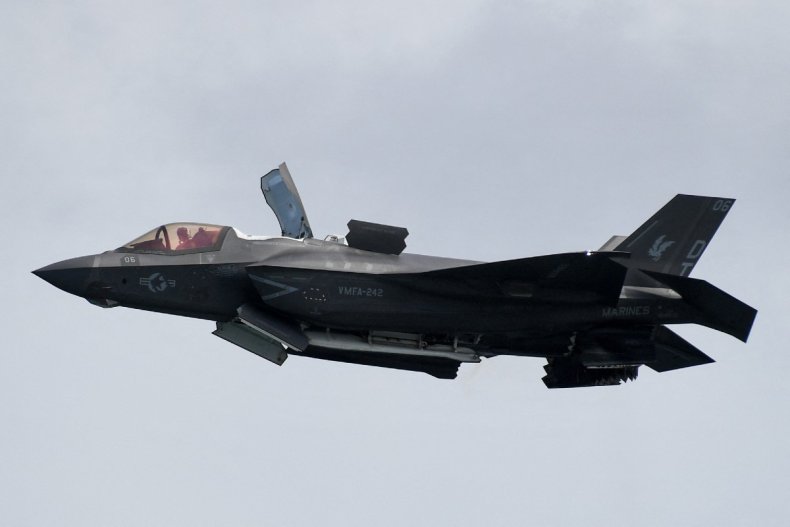 "The public is asked to cooperate with military and civilian authorities as the effort continues," Joint Base Charleston officials said. An investigation is reportedly underway, and the pilot of a second F-35 jet is said to have returned safely to Joint Base Charleston.
"If you have any information that may help our recovery teams locate the F-35, please call the Base Defense Operations Center," the post added.
The name of the pilot has not been released, and at the time of publication, the missing F-35 has not been located.
"How in the hell do you lose an F-35?" Nancy Mace, Republican Representative for one of South Carolina's congressional districts, wrote on X, formerly known as Twitter. "How is there not a tracking device and we're asking the public to what, find a jet and turn it in?"
"The @USMC [U.S. Marines] lost a F-35 today and are asking for the public's help to find it," one user of X, formerly Twitter, said in a post. "I suggest they put up some... flyers."
"Sounds like the stealth systems are working fine!" another social media user wrote. "It's honestly ridiculous this plane isn't already recovered," another added.
Other accounts posted images of handouts showing an F-35 as missing, and pictures of the jet with tracking devices, such as Apple's AirTag, superimposed onto the photograph. Other screenshots widely shared online also show an eBay ad for the missing jet.
The U.S. military widely uses the Lockheed Martin-made F-35 fifth-generation fighter jets, with advanced stealth capabilities. The F-35B is used by the U.S. Marine Corps, as well as by the British Royal Air Force and Italy's air force, and can take off in very short distances, or vertically, much like a helicopter.
Newsweek has reached out to Joint Base Charleston for additional comment via email.