As Saudi Crown Prince Mohammed bin Salman presses on with an ambitious set of reforms aimed at establishing the Kingdom as a leading international player, the powerful aspiring monarch is also revamping his foreign policy to engage diplomatically with top rival Iran in a bid to achieve the regional stability necessary to fulfill his "Vision 2030" plan.
But even as a China-brokered deal continues to bring Riyadh and Tehran together in new ways, serious challenges lie ahead. The most difficult task that stands before the man who could rule Saudi Arabia for decades is extracting his country from a vicious civil war across the border in Yemen while finding a solution to lingering security threats that could prove devastating to his agenda and legacy.
"Saudi is working to extract itself from Yemen and support any agreement the Yemenis work out among themselves," said Ali al-Shihabi, a Saudi political expert who formerly led the Arabia Foundation think tank and now serves on the advisory board of NEOM, one of several futuristic megaprojects being pursued in line with Vision 2030.
"The Kingdom has no illusions, however, as to the ease of getting this done," Shihabi told Newsweek, "and will have to keep a wary eye on its southern border if further Yemeni instability threatens to spill over the border."
To that end, Shihabi said Riyadh was pursuing de-escalation with Tehran as a "strategic interest," an endeavor bolstered now by Beijing's role as co-signatory in their high-profile agreement in March to reestablish diplomatic relations.
"Time will tell," he added. "Saudi will work to establish trade and investment ties to Iran to give Iran a further stake in regional stability but will still watch Iran very carefully to see whether it abides by its commitments to stability or not."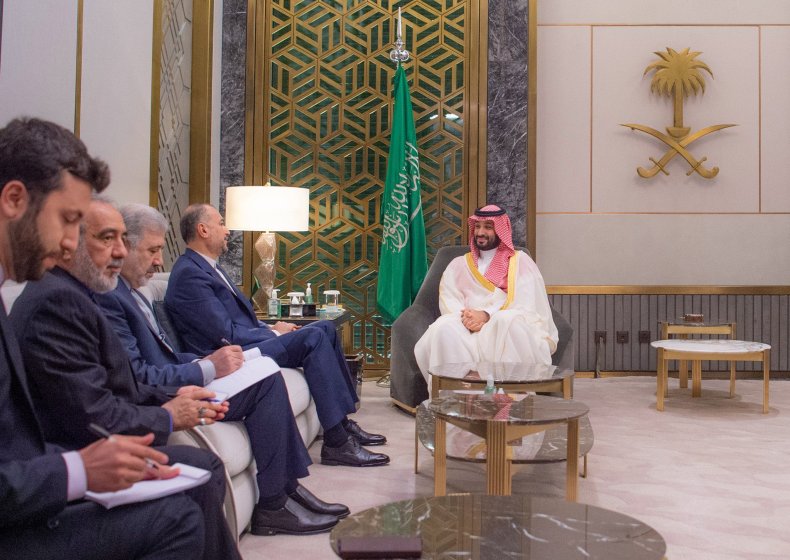 The economic factor is important for both sides, as insecurity has proven costly to Iran and Saudi Arabia's hopes to increase their clout on the world stage.
"The vulnerabilities are clear, as are the stakes," Mohammad Ali Shabani, editor of Amwaj.media, a London-based news site that focuses on Iran, Iraq and the Arabian Peninsula countries, told Newsweek. "MbS needs security to attract investment, and Iran wants the economic dividends of ensuring security."
Shabani, whose outlet has closely followed the inner workings of a rapprochement between Iran and Saudi Arabia that has been years in the making, noted how the Kingdom has felt the disruptive effects of nearby conflict firsthand. Saudi Arabia has been targeted in recent years by missiles launched by Yemen's Iran-aligned Ansar Allah movement, commonly referred to as the Houthis, and was struck by a particularly disruptive drone strike against the Abqaiq and Khurais oil facilities in a September 2019 operation attributed directly to Iran despite Tehran's denials.
While Riyadh and Tehran's regional rivalry has played out across a number of countries, including Lebanon, Iraq and Syria, the war in Yemen has proven an especially volatile front. Just as then-Deputy Crown Prince Mohammed began his rise to power in being appointed defense minister, Saudi Arabia launched a direct intervention in March 2015 in an attempt to reverse Ansar Allah's takeover of Sanaa. Yet the Zaidi Shiite Muslim group firmly holds the Yemeni capital to this day.
Riyadh has been accused throughout the conflict of committing war crimes, including the targeting of civilians, while Tehran has been charged with directly supplying Ansar Allah with advanced military equipment. Both sides deny the allegations.
Newsweek has reached out to the Iranian Mission to the United Nations and the Saudi Embassy to the United States for comment.
Just three months into the Riyadh-led intervention, which was supported by Washington and a number of Arab countries, then-U.S. President Barack Obama announced a landmark nuclear deal with Iran alongside other world powers. The accord collapsed three years later when U.S. President Donald Trump withdrew from it and reinstated heavy sanctions on Tehran, an action that sparked a new wave of regional unrest tied to the Islamic Republic.
While President Joe Biden sought a negotiated return to the nuclear agreement, formally known as the Joint Comprehensive Plan of Action (JCPOA), official dialogue has since unraveled, and the White House has said the effort was no longer a priority for the administration. Iran, meanwhile, has aimed to draw Ansar Allah closer into its "Axis of Resistance," but the group retains substantial independence.
"Part of the difficulties faced by Iran and Saudi Arabia pertain to what extent Iran can deliver on the security front, particularly mindful of the autonomous decision making of the Houthis," Shabani said, "and what can Saudi Arabia truly provide on the economic front, considering the extensive U.S. sanctions regime and upcoming U.S. presidential elections."
Saudi Arabia also lacks "real leverage" with Ansar Allah, according to Umar Karim, an associate fellow at the King Faisal Centre for Research and Islamic Studies in Riyadh and doctoral researcher at the University of Birmingham's Department of Political Science and International Studies.
That being said, he told Newsweek it "is noteworthy that since the Saudi-Iran breakthrough there has been no Houthi-launched missile or drone attack on Saudi Arabia, and that is key from the Saudi perspective that the conflict in Yemen remains in Yemen."
To alleviate the risk of further conflagration, he envisions a potential path forward that would entail a power-sharing agreement in which Ansar Allah would remain dominant, especially in northern Yemen, but Saudi allies retain influence.
Any deal would have to secure buy-ins from various Yemeni factions, who have formed shifting alliances and rivalries throughout the conflict, as well as both Riyadh and Tehran, whose nascent detente may rest on the fate of the conflict. This is particularly consequential for Crown Prince Mohammed.
"For the Saudi crown prince it, is clear that in order to follow this pathway of economic and social transformation, Saudi Arabia cannot afford any long-term and major conflict with Iran," Karim said.
"Although Saudi Arabia has started to diversify sources of revenue, still its overall budget remains dependent upon revenues generated from the energy sector, which shows that it still remains backbone of Saudi economy," he added, "and any repetition of an attack like that of Abqaiq or Khurais that closed down Saudi oil production is untenable."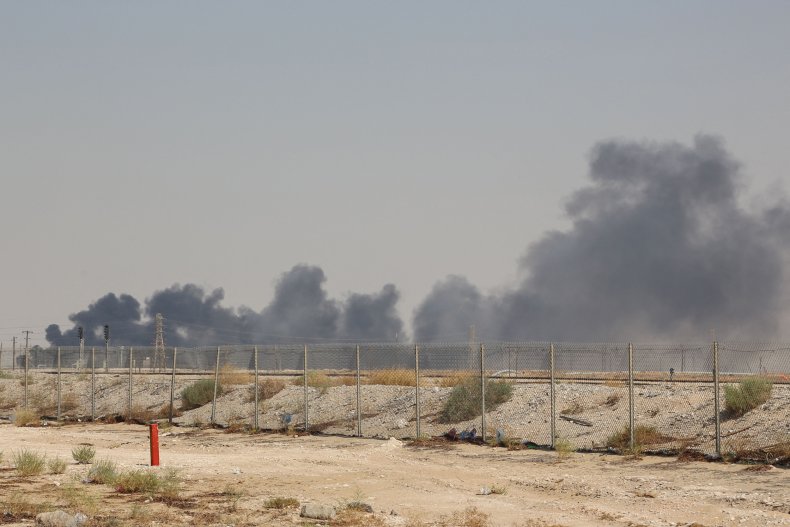 That point was echoed by Yasmine Farouk, a scholar at the Carnegie Endowment for International Peace's Middle East Program. She argues that the two attacks in 2019 showed how such tensions with Iran "can hamper the fulfillment of Vision 2030 targets by decreasing and even interrupting Saudi Arabia's revenues from oil and increasing the risk for foreign investors in Vision 2030 projects such as NEOM, tourism, infrastructure, energy and logistics projects."
She also pointed to a "U-turn" in Saudi foreign policy that began a year prior in response to the assassination of exiled Saudi journalist Jamal al-Khashoggi, who was killed by Saudi personnel during a visit to the Kingdom's consulate in Istanbul. The U.S. tied Crown Prince Mohammed directly to the slaying, something he and his government have always denied.
"The Palace reshuffled the team advising on foreign policy and initiated a phase of regional de-escalation, including with Iran," Farouk told Newsweek.
Saudi Arabia's approach to the war in Yemen "has significantly evolved" as well, according to Farouk, who said that "Riyadh doesn't hide that its current goal is to find a sustainable exit" from that conflict. Today, she argued, "Riyadh would definitely settle for less, but it cannot allow the Houthis to proclaim a clearcut victory or satisfy the entirety of financial and political demands."
Sanam Vakil, director of London-based Chatham House's Middle East and North Africa program, also noted that even at a time when the crown prince "is prioritizing deconfliction in Yemen," efforts toward a "ceasefire and broader peace are taking longer to achieve than what was envisaged."
"This shows the road ahead will be a difficult one for the Kingdom," Vakil told Newsweek. "Yemen will always be a long-term escalation risk for Saudi Arabia that will require continuous management and patronage, not only with Sanaa and Tehran but also with tribes across Yemen."
"Riyadh's medium- and long-term goal is to split the Houthis from Tehran," she added, "but to get there it needs to secure a ceasefire and build sustainable relationships with the Houthis and around the country."
This also necessitates maintaining steady engagement with the very power that Saudi Arabia has long portrayed as the primary source of its security woes.
"Having experienced Iranian attacks from Yemen and on its oil facilities, the Saudi leadership has understood the connectivity between regional security and economic prosperity," Vakil said. "For the vision to succeed, the Kingdom needs to end the war in Yemen and stop any missiles and drones flying over the Kingdom."
"Both of these moves," she added, "require dialogue and mediation with Tehran."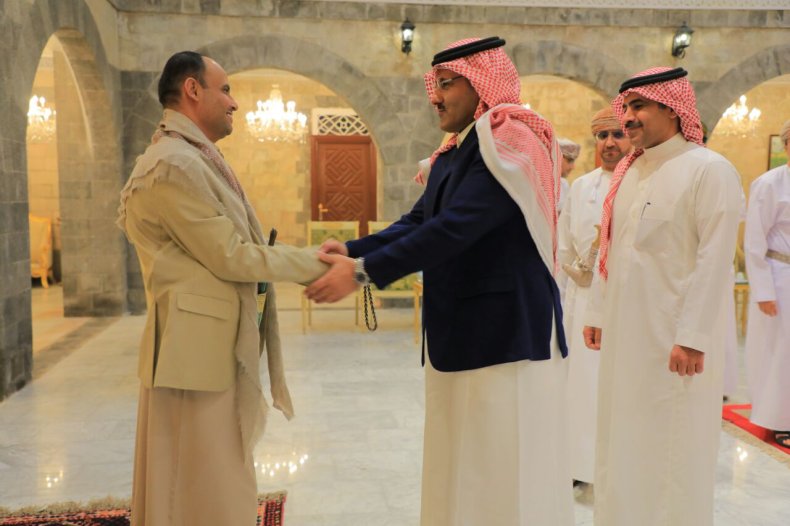 The next steps in capitalizing on the rare spirit of diplomacy and goodwill between Iran and Saudi Arabia that has emerged since reestablishing relations will likely prove critical for Crown Prince Mohammed's efforts to redefine his international image, which has thus far been tied closely to the conflict in Yemen.
While U.S. Institute of Peace Middle East Programs director Sarhang Hamasaeed said "it will be hard," he outlined a path for the young royal to salvage a victory out of the experience in Yemen.
"If through diplomatic engagement Iran appears to at least slow down regional advancement, if attacks on Saudi Arabia stop from Yemen, if the Kingdom can proceed with its ambitious agenda of investments, modernization and regional leadership, and if on the Yemeni side, the Houthis do not fully dominate and they succeed in creating a space for the other Yemeni forces to be part of the government, these could be positive points that Saudi Arabia and the crown prince could present domestically, regionally and internationally," Hamasaeed told Newsweek.
He argued that Saudi Arabia has been forced to draw lessons from the impact of conflict in the Middle East going back at least two decades to the U.S. invasion of Iraq and subsequent withdrawal that began in 2011, the same year the region was further rattled by the Arab Spring protest movement and the beginnings of what would emerge as the Islamic State militant group (ISIS).
Where military solutions did not deliver, Saudi Arabia under Crown Prince Mohammed is betting on a diplomatic path "to protect its southern border and stop the attacks, because the aspiration of modernization and the Vision 2030 and all these megaprojects that require major investments from the Kingdom itself and from outside investors, it requires a stable Saudi Arabia, a stable Middle East that is not under the threat of drones and rockets," according to Hamasaeed.
"So, it's a combination of positive incentives to not drain resources and to help stabilize," he added, "acknowledging a degree of the fact that confrontation did not help, maybe diplomatic engagement will bring a different outcome."