Special Counsel and U.S. Attorney for the District of Delaware David Weiss indicted Hunter Biden last week in what he no doubt hopes will be seen as a case of better late than never. But the truth is, Weiss's actions over the last five years represent a textbook case of a different adage: Justice delayed is Justice denied.
Weiss charged Hunter with making a false statement while purchasing a firearm in 2018 and possessing a firearm while using illegal drugs or controlled substances. It took Weiss five years to indict Hunter on such straightforward, easily-proved offenses—but just seven weeks after the collapse of his giveaway plea deal with Hunter. That's the justice delayed part.
More importantly, the firearms charge reflects no progress in investigating the real scandal—that Hunter Biden concealed millions of dollars that he received from foreign companies and individuals linked to unfriendly governments, and that Hunter may have influenced U.S. government policy in exchange, evaded taxes, and distributed the questionable gains throughout the Biden family network, perhaps ultimately to Joe Biden himself. That's when it becomes justice denied.
But even on the gun charge, the delay tactic has compromised justice, as a close look at the evidence reveals. On October 12, 2018, Hunter applied to purchase a handgun but lied about his illicit drug use on the mandatory federal background check paperwork. (Delaware state law imposes no waiting period, so Hunter left the gun store with the Colt Cobra .38 special revolver in hand on the same day.) But Hunter has admitted that he relapsed into crack addiction in 2018, when he learned how to cook drugs and "smoking crack every 15 minutes." Hunter both photographed and described himself using crystal meth and cocaine in addition to crack, and there is external confirmation: The U.S. Navy administratively discharged Hunter because he tested positively for cocaine.
Eleven days after Hunter purchased the gun, text messages between Hunter and Hallie Biden, his then-girlfriend and sister-in-law, show that she took that revolver from Hunter's unlocked car and threw it into a full trash bin outside of a grocery store very close to a high school. "Check yourself into a local rehab hunter [sic], this has all got to stop," Hallie texted. Days later, an older man who regularly rummaged through the grocery store's trash to collect recyclables reportedly turned in the gun. Yet Delaware police did not arrest or charge Hunter with state crimes such as improperly carrying, transporting, or storing the revolver.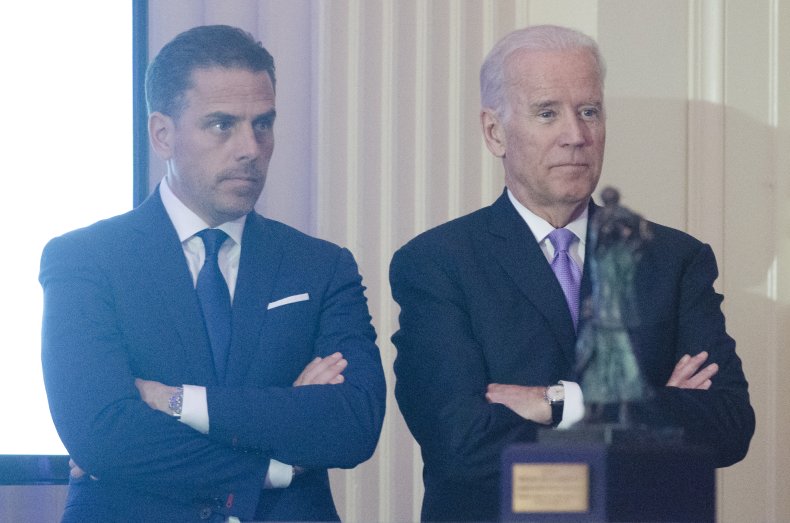 Hunter's defense lawyer, Abbe Lowell, has argued that Weiss's prosecution is politically motivated because "Hunter Biden possessing an unloaded gun for 11 days was not a threat to public safety." Per Lowell, the same David Weiss, who came within minutes of signing off on a sweetheart plea deal that would have given Hunter no jail time is now "bending to political pressure" and "a grave threat to our system of justice."
It's nonsense. The DOJ regularly prosecutes cases of lying on gun purchase forms. Federal prosecutors bring cases that are "lie and try," where the buyer is denied the firearm, or they bring cases that are "lie and buy," where the buyer lies and still succeeds in buying the weapon.
Far from being politically motivated to come after Hunter, whistleblowers credibly accused Weiss of deliberately slow-walking and interfering in the Hunter investigation. And while Weiss was busy not indicting Hunter Biden, the Supreme Court in 2022 decided Bruen, which said that the government, when justifying a firearm regulation, "must demonstrate that the regulation is consistent with the Nation's historical tradition of firearm regulation," opening up new challenges to existing state and federal regulations. If Weiss had brought the case quickly instead of waiting five years, this new ruling wouldn't have been available to Hunter's lawyers, who already indicated that they plan to use it to challenge the indictment and plan to base part of their arguments on the recent Bruen-related decisions from the Fifth Circuit in United States v. Daniels and United States v. Rahimi, and the Third Circuit in Range v. U.S. Attorney General (Delaware is in the Third Circuit).
But it's crucial to keep in mind that the gun charge is the least of Hunter's crimes. DOJ and IRS investigators have accumulated evidence that Hunter received millions from Ukrainian, Russian, Romanian, Kazakh, and Chinese companies and individuals, in exchange for influencing the U.S. government, according to testimony by Biden associates before the House oversight committee.
And yet, Weiss has not brought charges for money laundering, tax evasion, accounting fraud, influence peddling, bribery, violating the Foreign Agents Registration Act, and mail, bank, and wire fraud. Weiss also has yet to investigate where the money went, which could lead to the accounts of President Biden and other family members.
In fact, Weiss intentionally sat on Hunter's various alleged criminal offenses for so long that the statute of limitations has expired for crimes committed from 2014-2016, while the "Biden Brand" was in full swing.
Unfortunately for Hunter, the House has now begun an impeachment inquiry. Doubts have arisen over whether Kevin McCarthy can launch the probe without the full House's authorization, though like Nancy Pelosi with the first Trump impeachment, the Speaker can cure the problem by holding a vote.
Give Hunter more sweetheart deals or delay the special counsel investigation further and the Biden administration will fuel claims of bias and obstruction of justice.
Impeachment gives the Biden administration every incentive to actually prosecute, try, and seek the maximum penalty for the President's son.
But make no mistake about it: The indictment of Hunter Biden on a gun charge may be correct, but it is also a distraction from the real scandal.
John Yoo is the Emanuel S. Heller Professor of Law at the University of California at Berkeley, a nonresident senior fellow at the American Enterprise Institute, and a visiting fellow at the Hoover Institution. He served in the U.S. Department of Justice from 2001 to 2003. John Shu is a legal scholar and commentator who served in the administrations of Presidents George H. W. Bush and George W. Bush.
The views expressed in this article are the writers' own.