If Republican House Speaker Kevin McCarthy fails to rally Republicans to avoid a government shutdown by September 30, America's economy could take a "big hit."
The stalemate over the passage of spending bills comes only a few months after the U.S. came close to defaulting on its debt which threatened to inject turmoil into the global economy.
The brinksmanship prompted the ratings agency Fitch to downgrade the U.S. credit rating a notch below its top level.
Fitch blamed the demotion on a "steady deterioration in standards of governance over the last 20 years" which "have eroded confidence in fiscal management" in the world's largest economy. Faced with another instance of fiscal governance, Washington is falling short again.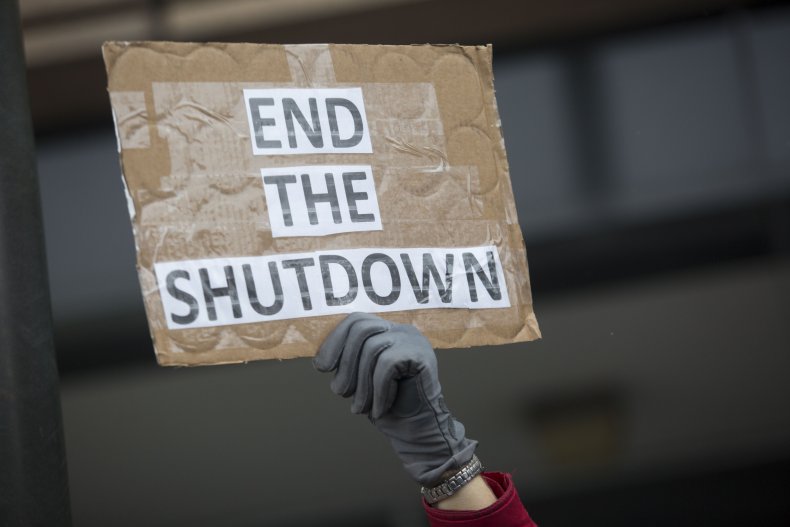 Should America wake up on October 1 to a government without the money to function, thousands of federal workers will be forced to stay home.
Economists tell Newsweek while the short-term economic damage maybe reversible, Americans would still feel the cost of government shutdowns in their pocketbooks.
Federal employees furloughed during the halt of government operations don't get paid but are usually get reimbursed when their agencies get back to work. This will blunt the lack of spending in the economy from those workers, said Nancy Vanden Houten, a senior economist at Oxford Economics.
"For the most part, the impact, it's reversed once the shutdown [ends]," she said. "The impacts are mostly made up in subsequent quarters."
Cost of shutdowns
Vanden Houten suggested that the economy still suffers losses from a shutdown as paychecks hit a pause. With spending curtailed, canceled dinner plans or trips to the movies is cash gone from the economy.
Kevin Lang, a professor of economics at Boston University, echoed those sentiments.
"That's a big hit to the individuals, it's presumably a non-trivial hit to consumer demand," he told Newsweek.
More than 360,000 employees live and work in the Washington region and those who may be forced to stay home will take a significant chunk of their spending away from the area's businesses and economy.
There are also secondary reverberations to the larger economy that may come to fruition if the government closes for business. Tourists, who contribute billions of dollars to the D.C. economy, may stay away due to the closure of government-run attractions.
"Museums in Washington, D.C., are closed, that's trips that people don't take to Washington D.C. to be tourists there. So that's the sort of thing you're gonna see going through the labor market," Lang said. "If you run something that depends on tourists, you may have, as an example, fewer rooms rented at your hotel, which may mean that you don't bring in, on any given day, as many people to clean the rooms, or you don't have as many people working shifts in your restaurants."
Federal spending makes up a quarter of America's gross domestic product, about $5.5 trillion. A government-wide shutdown would slow growth by 0.15 percentage point for every week it goes and 0.2 percentage point when private sector effects are included, according to an analysis by investment bank Goldman Sachs.
Since the 1970s, there have been close to 20 budgetary deadlocks but few actual shutdowns where the government ran out of money due to lack of funding agreement. The longest gap took place in December 2018 and lasted for more than a month, according to the Congressional Research Service.
Markets have tended to shrug over the years and may do so again this time. "In the short term, it doesn't really seem to be a significant economic headwind from our view," said Mahir Rasheed, a senior economist at global insurance firm Swiss Re.
But repeated budget fights are damaging to the U.S. and its economic status in the world. They entrench a perception that the world's leading economy can't get its fiscal house in order.
"When you consider a world of larger budget deficits, mixed with greater political polarization, it is something that's going to be, we think, increasingly concerning," Rasheed told Newsweek. "It fits into this kind of longer term structural view of a lot more political uncertainty domestically."
The perception that shutdowns only modestly hurt the economy could be making Congress more willing to budget debates to the brink.
"Compared to the debt limit, the less severe economic effect of a shutdown also makes it more likely that Congress fails to act in time," Alec Phillips, Goldman Sachs' chief U.S. political economist, wrote in a note.
What a Government Shutdown Means For the Future
But if another shutdown happens, it will add to the notion that fiscal governance has fallen prey to deepening polarization in American politics over the last decade.
Speaker McCarthy leads a small Republican majority in the House and has found it difficult to unite his members on a common agenda. Some hardline members of his conference refused to vote for spending bills unless McCarthy unleashed an impeachment inquiry against President Joe Biden, a demand he has acceded to. Others are asking for cuts on policies they call "woke" and are refusing to grant a "blank check" to fund the war in Ukraine.
These political arguments are in danger of leaving little room for consensus. They are also happening at a time when the U.S. economy is fragile. Policy-makers are grappling with soaring inflation that has forced aggressive rate hikes from the Federal Reserve, moves that could tip the economy into a recession. A deadlock on a budget will not help.
"Our forecast does call for a shallow recession, but a recession nonetheless, and starting in the fourth quarter," said Vanden Houten. "When you already expect economic growth to be negative, an event that knocks another tenth or two off of growth is more meaningful. So yes, I would agree that it's coming at a time where the economy is going to be in a more vulnerable position."
Van Houten said they have yet to incorporate the shutdown into their forecasts until it happens, but the politics of the situation suggest that the risk is high.
The lack of clear fiscal consensus at home may damage the ability of the U.S. to be a leader in the global economy.
Issues such as climate change, how to manage the relationship with China and dealing with geopolitical conflicts flaring around the world, are going to "require, a really united Congress to get major legislation passed in a timely manner," Rasheed said.
"If this kind of environment continues, and I do think it's something that markets eventually would react to," he added.
While in the past, there were more threats of shutdowns than actual stoppage of government operations, the political dynamics maybe different in this case.
"Over the years, there have been many near misses and more false alarms than actual shutdowns," Goldman Sachs' Phillips said. "That said, the ingredients for a shutdown— a thin House majority, a dispute on spending levels, and potential complications from various political issues—are present."