The Republican Clown Caucus and its ring leader Kevin McCarthy just debuted the latest sideshow in their legislative circus: a sham impeachment inquiry of President Biden that is opening to negative reviews from the American public.
With voters tuning out the House GOP's conspiracy-laden hearings, and Republicans' anti-democracy, anti-abortion agenda losing at the polls in every state where it's been on the ballot, this latest hail-mary effort may finally signal that the end is near for the GOP's plan to keep control of the House in 2024.
In announcing his intent to launch an impeachment inquiry into the President, Kevin McCarthy has confirmed what many of us knew the moment it took him 15 votes (and many backroom concessions) to be confirmed as Speaker of the House: He is Speaker in name only, having ceded control long ago to the most radical MAGA members of the Republican Party.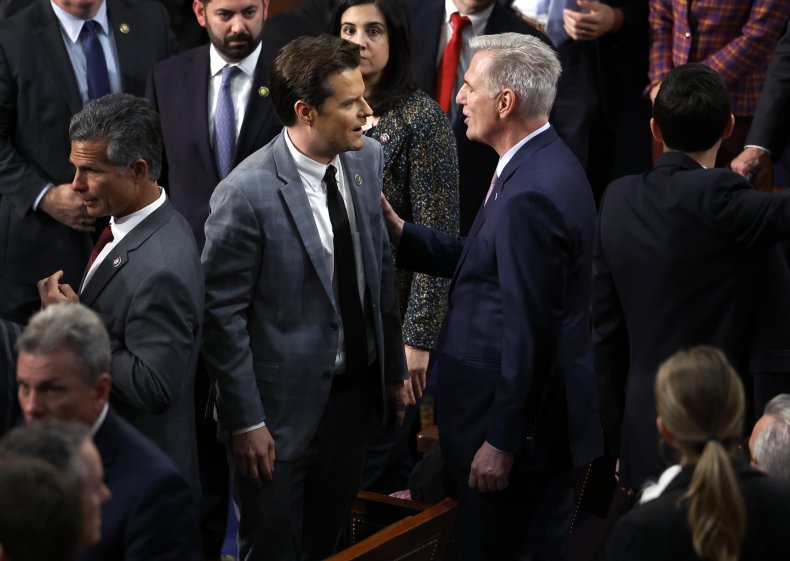 While threatening a deeply unpopular government shutdown, these extreme right-wing Republicans (or, let's be honest, these Republicans) are now willing to hold our entire government hostage just to appease Donald Trump, despite the fact that months of GOP-led committee investigations have produced no evidence of any wrongdoing by President Biden.
Republicans are wasting millions of dollars of taxpayer money and countless hours of time that should be devoted to addressing the real needs of the American people. And swing district voters are taking note.
In a recent survey conducted by Public Policy Polling, 56 percent of respondents in the 18 Biden-won districts represented by Republicans said the impeachment inquiry would be a "partisan political stunt." A majority also said it would be more about "damaging President Biden politically" than "finding the truth."
Nationally, in a Reuters/Ipsos poll, a majority agreed that Hunter Biden's legal troubles were "independent of and unrelated to" Biden's service as president—including Independents by a 2-1 margin, and even 32 percent of Republicans.
This GOP sideshow stands in stark contrast to the widely supported legislation that President Biden and fellow Democrats have enacted in recent years to address the everyday, real-life concerns of families and communities. We are coming off a historic Congress led by then-Speaker Nancy Pelosi that passed a Biden-led bipartisan agenda, including the first gun violence prevention legislation in 30 years, the most aggressive climate and environmental protection legislation in history, the American Rescue Plan, capping the price of insulin for those on Medicare, reducing the cost of prescription drugs, the Inflation Reduction Act, the CHIPS Act, and a historic bipartisan infrastructure bill.
This work has continued under Leader Hakeem Jeffries, who has been pushing for action on lowering costs, growing the economy for the middle class, and ensuring safer communities, even as these efforts are blocked by Republicans.
Just this week, President Biden has been traveling the world to bolster our economy and trade, making a tangible positive impact on U.S. jobs and the pocketbooks of Americans. Meanwhile, Speaker McCarthy can't even pass a budget and keep the lights on.
As we look forward, it is clearer than ever that the biggest electoral priority Democrats have is winning a majority in the House and Senate in 2024, and re-electing President Biden, so Congress can return to meaningfully legislating for the American people.
Democrats have proven that when they hold office, they deliver—and with stronger majorities, that results can be even more significant.
The majority of Americans are fed up with the GOP's distractions and dangerous agenda—and recent historic conservative defeats in Wisconsin and Ohio prove that voters aren't tuning out; they're showing up to the polls to defeat the radical right.
Just 6,675 votes in a handful of competitive districts decided control of the House in 2022. This latest theater from the GOP-controlled House isn't just another desperate move by a Republican Party that knows its time in power is coming to an end. It could very well be the last straw and galvanizing force for swing district voters and the wave of Democratic volunteers who will help win back a federal Democratic trifecta in 2024.
Yasmin Radjy is the Executive Director of Swing Left, a national organization formed in 2017 that has become one of the largest drivers of grassroots volunteers and donors to support Democrats in key competitive races up and down the ballot. Previously, she served in the Biden-Harris administration as a Senior Advisor supporting American Rescue Plan implementation at the U.S. Department of the Treasury, and as National Political Director at Planned Parenthood Action Fund.
The views expressed in this article are the writer's own.