Donald Trump took aim at electric vehicles and warned that the United Auto Workers will be "wiped out" after talks failed to call off strikes at the Big Three automakers.
UAW negotiators have spent several months in talks with the three leading automakers, Ford Motor Company, General Motors and Stellantis, to establish fresh employment agreements. The union requests included salary improvements, extended paid leave and better benefits. This is the first time in history that the UAW is striking all of the Big Three automakers at the same time.
A contentious issue in the negotiations regarding new contracts involves adjusting pay rates and hours due to the industry's impending transition to electric vehicles (EVs), which require fewer workers to build than traditional fuel-based vehicles.
However, as an agreement proved elusive, UAW President Shawn Fain declared that its members were ready to take action by not renewing their contracts, which expired at 11:59 p.m. on Thursday.
Writing on Truth Social, the former president said: "The all Electric Car is a disaster for both the United Auto Workers and the American Consumer. They will all be built in China and, they are too expensive, don't go far enough, take too long to charge, and pose various dangers under certain atmospheric conditions. If this happens, the United Auto workers will be wiped out, along with all other auto workers in the United States. The all Electric Car policy is about as dumb as Open Borders and No Voter I.D. IT IS A COMPLETE AND TOTAL DISASTER!"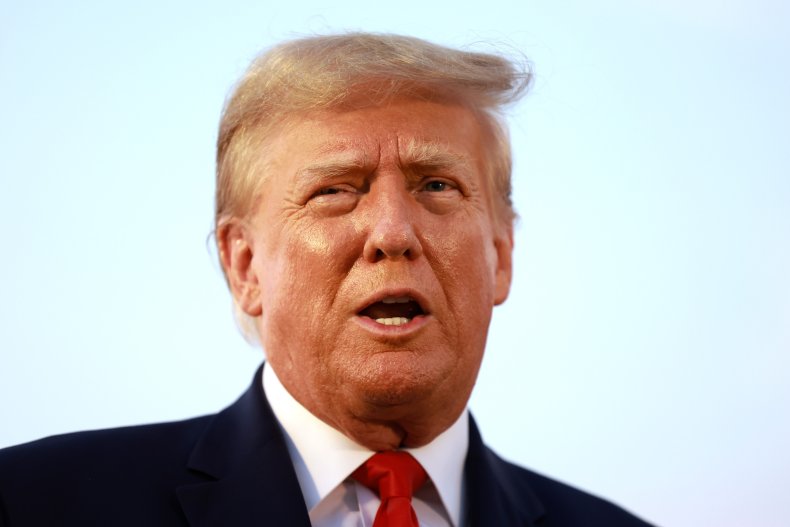 Newsweek reached out to the UAW via email for comment.
Last week, Trump denounced the push for EVs as the "idiotic policy" of President Joe Biden. Trump predicted that the auto industry would end if Fain did not reject EVs.
On September 4, in a similar Truth Social post to the one made on Friday, Trump wrote: "Shawn Fain, the respected President of the United Auto Workers, cannot even think about allowing ALL ELECTRIC CARS - THEY WILL ALL BE MADE IN CHINA, and the Auto Industry in America will cease to exist! There is already a giant 'E GLUT,' they don't go far or long, are very expensive, and the consumer must be given a CHOICE."
The former president also urged users to vote for him in 2024 as he will "stop this madness" and claimed, without evidence, that Mexico and Canada love "Biden's idiotic policy."
Trump is currently seeking to win the approval of voters in Michigan, a pivotal state in the 2024 presidential election. Last week, his campaign also released a statement saying that on Trump's first day in office, he would pursue a "complete and total repeal of Biden's catastrophic EV mandate."
By 2030, the Biden administration is aiming for electric vehicles to make up 50 percent of all new car sales. On August 31, the Department for Energy announced a $15.5 billion funding package for "retooling existing factories for the transition to electric vehicles."
U.S. Secretary of Energy Jennifer M. Granholm said the announcement shows "President Biden understands that building the cars of the future also necessitates helping the communities challenged by the transition away from the internal combustion engine."
The news was not well met by the UAW. In discussions over the union's job security proposals, manufacturers and union members failed to reach an agreement.
Speaking during a Facebook Live event on Thursday just hours before the strikes began, Fain said Ford is currently "investing billions of dollars in companies that are not Ford and in a workforce that is not the UAW. And they are receiving billions of dollars in taxpayer funding to support this race to the bottom."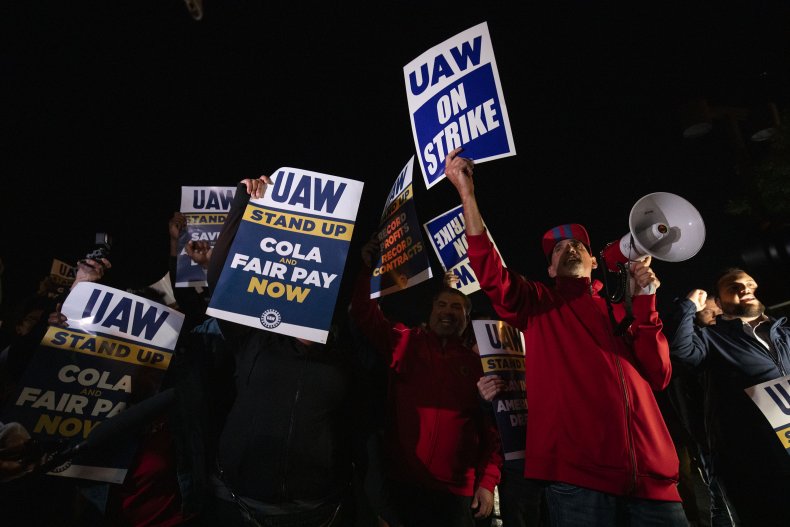 "If Ford wants 'Built in America' to mean something, then it has to mean something," he continued. Our union isn't going to stand by while we replace oil barons with battery barons who are more than happy to take billions in taxpayer handouts while offering workers dangerous jobs at poverty wages. Ford has a chance to lead here, but sadly they are choosing the low-road approach. Our union has been clear, we will fight for a just transition."
UAW members are striking at the General Motors assembly plant in Wentzville, Missouri; the Ford factory in Wayne, Michigan, near Detroit; and the Stellantis Jeep plant in Toledo, Ohio.
On Thursday, Ford spokesperson Jessica Enoch told Newsweek that the company prepared "contingency plans" if work stopped due to strikes.
Update, 09/15/23, 9 a.m. ET: This article was updated with additional information.