The Due Process Clause of the Fifth Amendment provides that "[n]o person shall ... be deprived of life, liberty, or property, without due process of law." The Fourteenth Amendment guarantees due process to the states, including Georgia. The Sixth Amendment provides that, "[i]n all criminal prosecutions, the accused shall enjoy the right to a ... public trial, by an impartial jury of the States and district wherein the crime shall have been committed...." Ultimately, the right to jury trial guarantees to the criminally accused a "fair trial" by a panel of impartial, "indifferent" jurors.
Admittedly, it's exceptionally difficult to guarantee a former president and criminal defendant a fair trial, because of the word "fair." "Fairness" is a relative—not an absolute—concept. Reasonable minds will disagree on what is, and what is not, fair. To decide what is fair requires a comparison with other similar circumstances and outcomes.
And there's nothing to compare a Trump trial to.
Take, for example, the thousand or so defendants charged in connection with the January 6 rioting. Those were arguably all high-profile cases. None of those defendants were famous in the way the 45th president is. Donald Trump is arguably the most famous person—ever. Trump's been a celebrity for decades—long before he rode down the escalator and announced his candidacy.
But celebrities have been prosecuted before, too. O.J. Simpson's trial was arguably one of the most publicized in American history. Bill Cosby, Harvey Weinstein, and Danny Masterson were all tried and convicted of sexual assault in a modern internet age (although Cosby's conviction was ultimately overturned). Yet no celebrity defendant has also been a former president. As famous as these celebrity defendants were, Trump is orders of magnitude more famous than they are.
So the fact that this has never happened before in American history means we have no way of knowing in advance what a "fair trial" of an American president looks like, because we have no other similar trials to compare it to.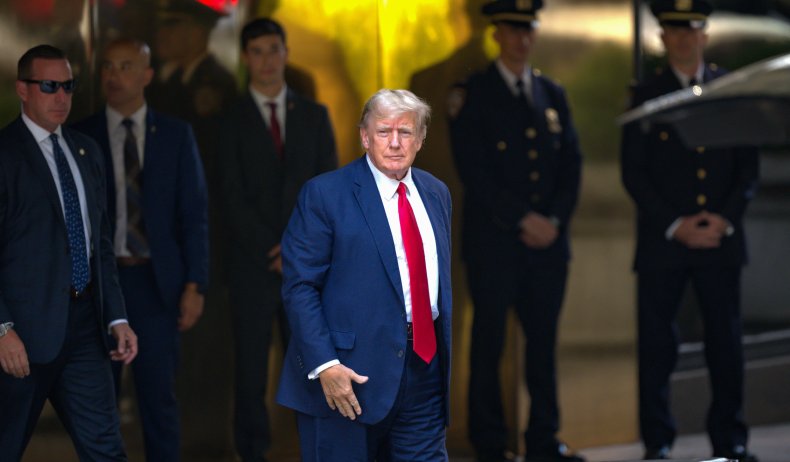 Courts have procedural safeguards to deal with the risks attendant to high profile trials. For example, federal courts have discretion to transfer the case "to another district if the court is satisfied that so great a prejudice against the defendant exists in the [original venue] that the defendant cannot obtain a fair and impartial trial there." The Supreme Court has recognized transferring a case is "a basic requirement of due process ... if extraordinary local prejudice will prevent a fair trial."
But the Supreme Court has only ever "overturned ... conviction[s] obtained in a trial atmosphere that [was] utterly corrupted by press coverage" in the rarest of cases. The Court has always emphasized that mere juror exposure to news accounts of the crime does not presumptively deprive a defendant of due process.
There are admittedly a couple of problems with these procedural protections. On the one hand, a transfer of venue hardly solves the problem of a high-profile case. Perhaps in a pre-internet, pre-television, pre-telegraph age, the notoriety of a case was somewhat confined to a particular county. But in the social media, iPhone era, transfer is a hollow protection. Indeed, by definition, a "high profile" case means people everywhere are interested in the case.
Even if transfer is granted, it probably won't be to a venue where people have never heard of the case. For example, Bill Cosby's trial team moved to transfer venue of his state court trial out of Montgomery County, Pennsylvania, citing prejudicial pretrial publicity. His motion was denied, but even if it had been granted, every other county in Pennsylvania had people who knew about Bill Cosby and his alleged crimes.
A former president is likely to benefit from transfer in a way that no other celebrity defendant could, because of what we know about the 2020 election results. For example, Trump has already tried to transfer his New York state criminal case from New York county (which voted overwhelmingly for Biden) to Staten Island (which went for Trump). While election results tell us nothing about whether jurors can be impartial, a transfer here is not a cosmetic fix—a transfer could make the difference between acquittal or conviction.
What this means is that if his case is transferred, Trump would receive a "fairer" trial than most. If not, an appellate court might determine that he did not receive a fair trial. Statistically, courts virtually never overturn convictions based upon the publicized nature of the trial. But, it does happen.
If convicted, appellate courts—including the Supreme Court—will likely conclude after the fact that Trump did receive a fair trial. There will be nothing to compare these trials to, so the "fairness" of the trial will be a subjective, first-time definition.
But ultimately, courts have to conclude Trump received a fair trial. Because the alternative is really a conclusion that there are no circumstances under which a president could receive a fair trial—which would mean ex-presidents are effectively immune from prosecution.
That cannot be the case. So, Trump will also receive a fair trial because it has to be a fair trial.
Danny Cevallos is an NBC News and MSNBC Legal Analyst and a criminal defense attorney.
The views expressed in this article are the writer's own.